Take a step into the world of drumming 
What is it about the drum that you are drawn to? Is it the energy of the rhythm, how the groove permeates the body, maybe the sound of the meditative beats? 
Whether you're 5 or 105 it's never too late to learn how to drum. One of the great aspects of drumming for beginners is that it's so accessible for all age groups. You don't need to be a musician to play and learn to drum, as shown in many of my drumming student resources. Not even reading music notation. All that's required is an open heart, an enthusiasm to be creative, maybe steeping out of your comfort zone and allowing your hands to dance on the drum. 
Choosing a drum for the first time? 
So, you've been hit by the rhythm bug and now you want to learn to drum. What is the first step in moving forward? You guessed it, choosing a drum that suits you. It can get a little confusing with all the information out there of what drum to choose for yourself. You might even get dragged into playing a particular drum because everyone else seems to be playing that kind of drum. 
The following beginner drum tips are to help guide you to make the right choice for yourself, whether you're drumming on your own or in a drum circle. 
As mentioned in the video there are 3 categories of drum pitch. All drums are classed as world drums – drums from all cultures. Each pitched drum plays a different role in the music making. A good indication of what kind of drum to choose can be determine by your personality. Let's look at 3 drum pitches and the kind of drums that fit into each category. 
Low pitch drums – the supporting role within the music-making. 
The bass line of the music that lays the groove foundation of the drum circle. Rhythms of these instruments are simple yet powerful, steady, unflappable when others solo around them. Its one of the most important rhythmical pitched instruments that many rely upon within the drum circle for the steady beat. 
Lets look at a few drums in this category: 
African dundun (sticks) 
Bahia bass (mallet) 
Low pitch conga (hands) 
Big frame drum (depending on the other pitch drums with the group – hand/mallet) 
Medicine drum (like 22 inch- mallet) 
Surdo (mallets) 
Buffalo drum (mallet) 
Bahia gathering drum Mallets/hands) 
Large Tubano hands/sticks/mallets) 
Large taiko (sticks) 
Medium pitch drums - the connector between 2 pitches
Now let's look at medium pitch drums. They connect the low pitch to the high pitch drums – the bridge between the two. They love to connect. The rhythms of the medium pitch drums vary from simple to complex with the opportunity for soling and dialoging with low and high pitch drums.
Let's look at some drums in this category: 
Conga (hands) 
Timbau (hands) 
12 inch Tubano (hands) 
Ashiko (hands) 
Kpanlogo (hands/sticks) 
African sangban (sticks) 
Bougarabou (hands) 
Bodhran (stick) 
High pitch drums - soloists the ad - libber 
Now let's look at high pitch drums. The high pitch drum float above the low and medium pitch rhythms and cut through. Their the soloist of the group and stand out.
Let's look at some drums in this category: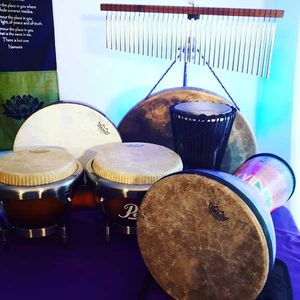 Tamborim (sticks) 
Bongos (hands/sticks/mallets) 
Djembe (hands) 
Snare drums (sticks) 
High pitch congas (hands/sticks) 
Talking drum (stick) 
10 inch Tubano (hands/sticks) 
Small frame drums 
Can you think of any other drums that fit into these 3 categories? Please share your thoughts in the comments below. 
So what is the next step for you to take on your drum beginning journey? 
A little gift for you as you continue to build your djembe drumming skills.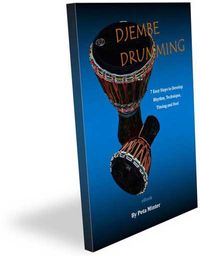 I want to help you out as much as I can so I've added some great hand drum beats for beginners and ensemble drums that accompany the djembe, called 7 Easy Steps to Develop Rhythm, Technique, Timing and Feel ebook. It's filled with lots of tips on technique and how to improve your timing and feel, to really take your playing to the next level. 
This is my gift to you and something that can accompany you on your drumming journey. 
Get your instant copy for absolutely free!! Price $15 - FREE today!! 
Thank you so much for taking the time to be here. If you like this post please leave a comment below and share by clicking the button at the bottom of this page, many good wishes, Peta.