There are so many benefits to drumming in a group, it can take us on a journey of deep peace and calm.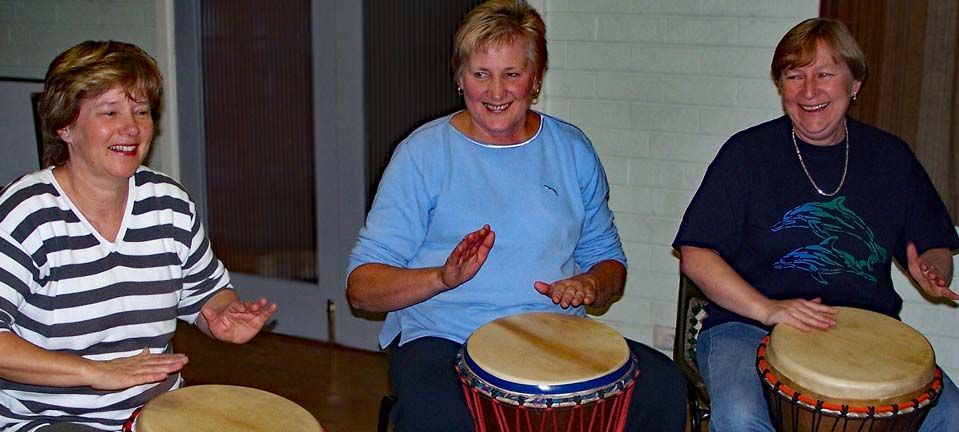 I've been very fortunate and grateful to be back facilitating Positive Music drum circles in Melbourne. Each drumming circle I facilitate is different and unique in its own way. As you may know that drum circle participants create in the moment music making – improvise. By the end of the session participants are in that beautiful zone of in flow, where time and space don't really exist. (Ooww… it gives me goosebumps). 
Those special moments that happen in the drum circle where everyone is deeply connected to each other through rhythm, beautiful sounds, flowing melodies and energy. By the end of each rhythm event, I ask participants what do they feel or have experienced? Many of them say that they feel peace. Facilitators job accomplished… 
Have you experienced peace or in flow while drumming with others? Maybe you've been in the zone, where everything has dropped in the groove slot and just feels amazing? If so, what do you feel had been the catalyst for this? 
There are so many wonderful techniques and drumming resources for students to help build drumming skills. Actually, I see playing drums and facilitating a group of drum circle participants similar techniques. I've been drumming, teaching and facilitating rhythm events most of my life and I never stop learning! 
Can we learn from wise words of master Yoda? (May the 4th be with you 😉) 
If we can imagine that all rhythm, music and sound is energy, or all energy is vibration, we can begin to view our drumming or facilitation skills in a holistic way. We can let go of the fear I'm not good enough. Fear puts us in a state of anxiety so we're unable to tune in to the flow that is within each of us. 
I've been lucky enough to have been on both sides as drummer and facilitator in the drum circle. I can feel when things are in flow and the opposite, when it feels too stressed and uncomfortable, out of flow. Yes, I've been in rhythm, and out of rhythm many times, and both sides have taught me a great deal about myself. Fear had put me into the zone of needing to control the outcome. The fear of not being good enough…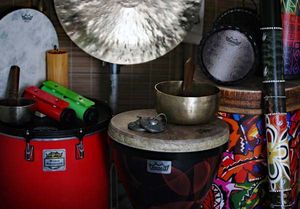 Fear takes away our ability to tune into our intuition of what to play, when to play, how to play. It blocks us from an authentic connection with our self and others. Deep stuff, right? But if we want to get to that place of flow, connection, peace, we need to let go of limiting beliefs. One of the most empowering skills is to quiet the mind and tune into the power of intention. Take a breath…tune in. 
Guaranteed you will have more powerful rhythmical experiences and meaningful connection with others, either through drumming our group facilitation – our thoughts are powerful. 
Trust and go with the flow 
I have the wonderful opportunity to facilitate Positive Music training retreats across Australia. I'd been invited by a wonderful spiritual leader to facilitate a drum circle for Melbourne spiritual retreat program just last weekend. The intention for the rhythm event was to connect participants with their virtue card and others in the group. Wow what a beautiful intention for each participant. We had a short discussion the spiritual leader and I on what instruments to bring for our empowering rhythm workshop. It started out with the intention of including drums, then it changed to no drums just percussion. 
I thought I had about 45 minutes to facilitate this beautiful meaningful experience during the percussion session… no it was 15 minutes… Another lesson as a group facilitator, to be open to change, even at the last minute. 
I had a rough idea what and how I could facilitate the session, though I don't hold onto any plans anymore. I go with what is presented to me at that time. With the intention to serve the group, I quietened my mind and tuned in. I trusted the process and got out of my head. I was completely in the flow. After a few rapport building rhythm games, just as I teach in Positive Music teacher trainings, we got into the flow of what was the most beautiful music-making and deep connection with each other. 
The feedback from the day program was the percussion circle was the most profound part of the program many had experienced. It's amazing what can happen when like minded people come together with the intention to serve and participants trust, open heart and the intention to connect musically, spiritually. 
Take away: 
Have an intention for your drumming 
Quiet the mind to listen to your intuition 
All rhythm, music, sound is energy.
Learn the H'art of Drum Circle Facilitation and help build stronger communities through the power of group drumming and music-making.

Would you like to go on a fun and empowering rhythmical journey? For more information on Positive Music teacher trainings, please contact us today.
A little gift for you as you continue to build your djembe drumming skills. 
I want to help you out as much as I can so I've added some great hand drum beats for beginners and ensemble drums that accompany the djembe, called 7 Easy Steps to Develop Rhythm, Technique, Timing and Feel PDF. It's filled with lots of tips on technique and how to improve your timing and feel, to really take your playing to the next level.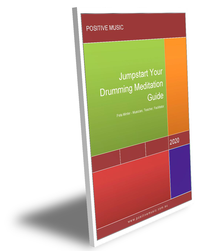 This is my gift to you and something that can accompany you on your drumming journey. 
Get your instant copy for absolutely free!! Price $15 - FREE today!! 
Download your FREE Djembe Drumming PDF Now
Thank you so much for taking the time to be here. If you like this post please leave a comment below and share by clicking the button at the bottom of this page, many good wishes, Peta.