Gong meditation music to awaken intuition
Would you like to experience joy in 2022? Are you looking for more purpose, more direction, more harmony in life? 
Let's bring in positive vibrations for a happy, healthy and inspiring 2022 with the energising vibrational Paiste planet gong meditation.
When we take time out to tune in and listen, whether that's with meditative rhythms of drumming, soothing sounds of singing bowls during a personal sound healing or in this case the powerful gong, we let go of distractions from the outside world. Sound vibrations from these ancient therapeutic musical instruments awaken and help guide us to listen to our intuition, our heart, our higher self. 
Medicine music is used around the globe for a better night sleep, to enhance creativity, rebalance the mind, body and spirit. Not only does music change our mood, lowers blood pressure and stimulate white blood cells creating a stronger immune system, it makes us feel so much better. 
As a sound practitioner I see it so often with my clients. Whether it's participating in a drum circle, group sound bath or personal sound healing, the change on people's faces, mood vibration is remarkable. From low energy as they enter the space to looking energised, glowing, radiant and a sense of peace on their beautiful face after the session. 
Awaken your full potential in 2022 through the meditative healing sounds of the gong 
For best results please pop on your headphones. Now… let's settle in and just take a moment or two to tune in… while listening to the beautiful mesmerizing sound healing Planet gong meditation… what you would like more of in 2022? 
Continue to breathe deeply… let go of any tightness within the body… let go of the past… begin to breathe deeper… let your shoulders relax… relax your facial muscles… relax your forehead… take in an even deeper breathe… 
As you listen to the gong meditation, continue tune in and ask yourself a question, where you would like more clarity. The answer might come up straight away or it may take some time, even over a day or so. 
The more we surround ourselves with positive vibrational sound healing, the easier it is to nurture our intuition, creativity and trust the journey we are on. 
So, what are the steps we can take for more of what we want in 2022 
It's time to tune in and let go of distractions and release negative self-belief patterns. It's time for more positive music and positive vibrations! Put you at the top of the list and make 2022 a year to awaken your full potential. 
Setup an ongoing practice, whether starting out or continuing:
learn a musical instrument or learn to drum,
attending a community drumming workshop,
booking in for regular meditation classes,
attend regular personal sound healings,
going out to see musicians play your favourite style of music
book yourself into a training or online drumming meditation course.
Allow more medicine music to flow in and out each day, just like your body needs oxygen, your mind, body and spirit needs positive music and positive vibrations. 
What gong am I playing? 
The beautiful 30" Paiste Planet Gong. YEAR F2/F-86,03 Hz – (Based on planetary calculation - 3rd Octave F3/f-172,06 Hz - 4th Octave A4/a'-433,56 Hz.)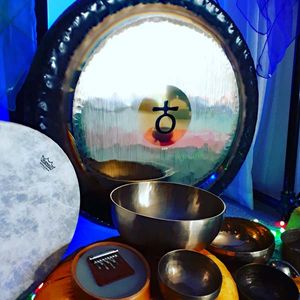 This Planet Gong has amazing over tones and every time I play, it brings out different tonal colours. It's like a sound journey and each time I play it, it feels like a "getting to know you kind of relationship", which means, she (the gong), comes up with so many lovely sonic surprises. I mainly play by feel and in the moment during a personal sound healing and in my sound baths by being drawn into the colour of sounds she (the gong) presents. 
It such a beautiful sound healing instrument to play and to play for others, I've found that these kinds of gongs are very powerful, they have a huge presence and deep vibrations. 
Many people love to use the gong as a meditation tool, to help ease the mind from over thinking and help enhance positive energy within the body and spirit. I hope you enjoy. 
I want to say thank you for your lovely support by spending time with me on Positive Music blog and I hope you have a fantastic New Year. I'm really looking forward to sharing the positive vibes once again with you in 2022. 
Over to you. What challenges have you faced in 2021 and what actions will you take during 2022 for your wellbeing? Please leave a comment below, I'd love to hear from you. 
Build your music medicine with my FREE Drumming Meditation Guide     
Are you drawn to the healing rhythmical beat of drumming? Do you want to know how to begin a meditative drumming practice to help silence the mind?    
A little gift for you as you continue to enhance your drumming meditation practice.     
I want to help you out as much as I can so I've created a guide to help build your drumming meditation practice. It's filled with guidance, tips, and tools to really take your meditation to a deeper level.     
This is my gift to you and something that can accompany you on your meditative musical journey.   
Download Your Free Drumming Meditation Guide   
Get your instant copy for absolutely free!! Price $10 - FREE today!!     
Thank you so much for taking the time to be here. If you liked this post, please feel free to share by clicking the button at the bottom of this page, many good wishes, Peta.