Embrace harmonious sound healing meditation with soothing rhythms of Remo buffalo drum 
I felt so much at home getting in tune with the lovely new heart chakra Remo buffalo drum. I was introduced to this beautiful 14-inch Remo drum during an in person sound healing training I attended in Melbourne the other month. In the past I've played my 22-inch Remo buffalo drum (which sounds amazing) for personal sound healings and sound bath meditations, so I'm familiar with the benefits of the buffalo drum rhythms. However, I really like this smaller 14-inch drum, it has such a sweet sound, a lovely tone. 
As I began to play along with my other sound therapy instruments such as Himalayan singing bowls and crystal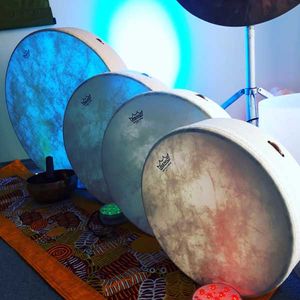 singing bowls, for this drum meditation play-along, I realised it came tuned to the heart chakra… how beautiful is that? 
Another ahaa moment was how the Remo buffalo drum and singing bowls interacted with each other. They created a resonating harmony. It's like the drum became a singing bowl, a harmony instrument. It turns out that this drum can be used for many occasions. 
The combination of sound therapy instruments in the video are the kind of instruments I bring to my Positive Music drum circle facilitator trainings. It's really important for those wanting to run their own wellness rhythm events to learn how to incorporate these sound healing instruments. When we create a drum circle that uses instruments that are in harmony with each other it helps participants to feel these harmonious vibrations and rhythms. 
Music a tool for self-awareness and collective harmony 
They say the universe began with sound and everything is vibration. Even silence is vibration? Just take a moment to sit with this thought… what does this invoke in you? 
Sound, rhythm and music can teach us so much about our self. We are just touching the surface of the healing power of music and how we can incorporate this in wellbeing programs and community engagement programs. A simple act of playing a steady beat on the buffalo drum can let me know what I'm feeling. The steady beat and pitch of the drum can change my mood within a very short period of time from frustration to calm. 
Just picture, each time the mallet touches the head of the buffalo drum and the drum head moving up and down or back and forth. This creates vibration, a frequency and this vibration connects with me, the body, mind and spirit. 
If we are energy, drumming can bring an awareness to the flow, in sync, in time, or chaotic, frantic of our inner world. Rhythm can bring a light to a deeper sense of self-awareness and life – the flow, the easiness of it all, the peace within us. And then out of rhythm the chaos, which can show up as anger, frustration, hopelessness and intolerance. Which would you prefer? 
Can music be a catalyst for world healing process? 
As I mentioned if we spend too much time in the chaos of it all, this will have an effect on our mental, physical and emotional wellbeing. Cortisol, the primary stress hormone and Norepinephrine can cause many health problems, it can exhaust our immune system, digestive system, blood pressure. The benefits of music and drumming help boost our immune system, harmonises nervous system, restores blood pressure, improves a better night sleep and lots more. 
When we participate in a drum circle, or play music or musical instrument, sing mantras, enroll in an online drumming meditation course, attend a group sound bath not only are we gaining the benefits but we are passing on this positive energy, vibrations as a gift to world harmony. 
If vibration is energy, frequency, what vibrations are we creating in our home, community, workplace, country? And these vibrations can remain in a space, even after we have left the space. Have you noticed… being in a space such as a, meditation retreat, a 200-year-old church, a temple, a spiritual gathering place, even a space for music-making or drum circles and feel the energy of this space? 
We are living in a time where all of us are being challenged… yes? Remember everything is vibration and we are all connected in some way… vibrational way. The more people who continue and take up music as a tool for wellness, with the intention for self-healing and world peace the more we become stronger, connected and one harmonious community. 
The collective energy remains… 
Over to you! How does music effect you? Please leave a comment below.
Learn to use sound as a wellness and meditative tool for self-care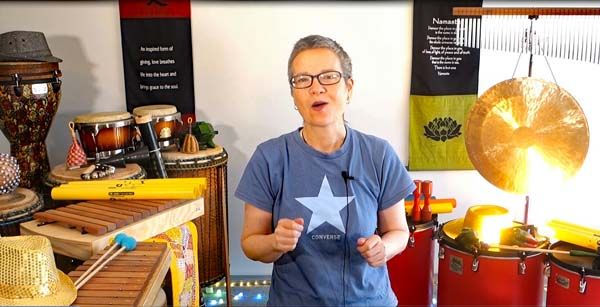 For more information or book online Mentor package please contact me.  
Build your knowledge with my FREE Drumming Meditation Guide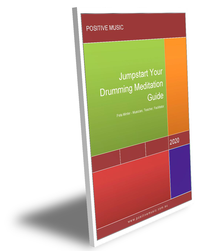 Are you drawn to the healing rhythmical beat of drumming? Do you want to know how to begin a meditative drumming practice to help silence the mind?     
A little gift for you as you continue to enhance your drumming meditation practice.      
I want to help you out as much as I can so I've created a guide to help build your drumming meditation practice. It's filled with guidance, tips, and tools to really take your meditation to a deeper level.      
This is my gift to you and something that can accompany you on your meditative musical journey.    
Get your instant copy for absolutely free!! Price $10 - FREE today!!      
Thank you so much for taking the time to be here. If you liked this post please feel free to share by clicking the button at the bottom