Create rhythmical dialog and connection with group drumming rhythms
Did you know by just adding a small variety of different pitched drums within the drum circle you can create huge opportunity for meaningful dialog and deeper connection with others? 
Put yourself in the drum circle for a moment and just imagine yourself playing from your heart, being in the moment, seeing smiling faces, feeling the positive energy permeating around you and hearing the flow drum rhythms, in sync, in the groove. It's the best feeling! When moments happen like this, it's because of the groups deep listening through rhythmical dialog. If you're a drum circle facilitator or classroom teacher you know the importance of rhythmical connection and how powerful the drum circle can be for any age. 
Get more connection with your hand drum rhythms 
Quite often beginner drummers and many experienced drummers for that matter, aren't sure of what to play, especially when it comes to improvisation within the drum circle. No worries. So first of all, if you're a beginner we need to practice a few things to build confidence. Start with building drumming psychomotor coordination skills to improve hand eye coordination. This can free up our mind to listen deeply to your own rhythm and rhythms of others and not get stuck on which hands to play. 
Notice in this video when all three hand drum rhythms are played together, each rhythm enhances the beautiful dialog creating the ensemble rhythm to sit in a lovely pocket making us move and groove? Just by learning these three hand drum rhythms you'll boost confidence, coordination, experience achievement and rhythmical success. By using three different pitch drums, they strengthen the lovely dialog between each rhythm which can lead to improvisation and rhythmical melodies within the drum circle. 
When we drum with others in the drum circle, it comes down to the quality of rhythmical connection. The drums become a tool for connection, so by using a variety of different drum pitches this serve deep connection among participants. This is a feature of Positive Music personal development drum circle facilitator training, where participants learn what kind of instruments to use for a variety of populations and how to create more meaningful dialog, improvisation and connection with specific drum circle games, techniques and tools.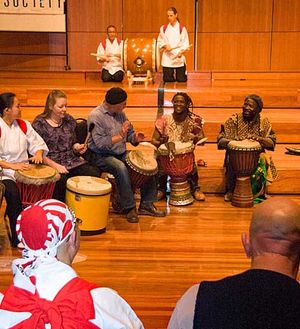 I've said it a thousand times you don't need to be a professional drummer to make music with others. However just by learning these simple drum circle rhythms and other drumming resources it's a great place to start your rhythmal journey and motivate your drum circle participation. 
How to improve your drumming skills? 
To improve drumming skills, whether that's for classroom music-making or community gatherings we can put this in three categories. Develop rhythm, develop timing and develop feel. One of the best advice I received from my percussion teacher is to play along to music. Playing along to music is an incredible learning tool and there's many wonderful student resources for you to choose from. Just by playing along to music it helps develop listening skills (ear training), promote awareness of musical structure, increase timing and feel and all these benefits in only a short period of time. 
Has this post been helpful? Please let me know in the comments. 
WOULD YOU LIKE TO BE PART OF MY ONLINE THERAPETUIC PROGRAMS? 
This year I'm running live streaming therapeutic programs for individuals and groups to help decrease stress, inspire community connection and increase harmony for those in need of holistic therapeutic experiences. 
Would you like to help me achieve these live streaming therapeutic programs? 
Crowdfunding is a wonderful way to support the work of independent artists and practitioners like me, and in return for the money you give, you receive a reward, please check out all the rewards on my crowdfunding campaign page. 
A little gift for you as you continue to build your djembe drumming skills. 
I want to help you out as much as I can so I've added some great hand drum beats for beginners and ensemble drums that accompany the djembe, called 7 Easy Steps to Develop Rhythm, Technique, Timing and Feel PDF. It's filled with lots of tips on technique and how to improve your timing and feel, to really take your playing to the next level.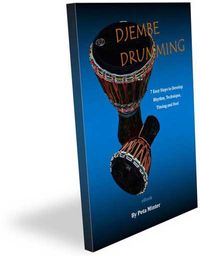 This is my gift to you and something that can accompany you on your drumming journey. 
Get your instant copy for absolutely free!! Price $15 - FREE today!! 
Thank you so much for taking the time to be here. If you like this post please leave a comment below and share by clicking the button at the bottom of this page, many good wishes, Peta.