Drum student and teacher fun resource - sneak peak
When you think drums and percussion what comes to mind? Does it come with a feeling, a memory? Music has the power to touch our heart and move our body.
Music is a part of so many cultures across the globe, it helps us connect with our community, strengthens bonds, imprints memorable moments in our life. 
I remember when I first was exposed to percussion, I was about 8 years of age. At school sitting on the floor and given a triangle. It was like wow, this sounds cool, I was engaged immediately.   
There really should be a music section in every pharmacy and medical centre. But of course, if you played in a drum circle you know exactly what I'm talking about. 
New drum resource for students from young to mature age 
Last year during lockdown I started new student resources and began writing and recording drum and percussion music for all ages, to help grow your rhythms skills. For school students and those that maybe of retirement age. It's been on my radar for so many years, and now I finally have the time to create more music for you. 
So far there is music for the classroom, Joey's Jive, Pond Party, Drum Dreaming for all ages and now my new Honey Highlife. I'm so looking forward to sharing a behind the scenes look and sneak preview of the new student resource. It will be up for you to grab a copy next week, where you can download the play-along track and pdf for those students who don't know how to read musical notation, plus those how can read. The download will include all tracks, score and individual drum, percussion and Orff mallet parts. 
Learn Honey Highlife online Workshop 
I'm also in the process of creating a full-length workshop, where I go in depth and teach all parts to Honey Highlife. So you can feel confident in learning and if you are a classroom teacher have this wonderful resource at your fingertips, to help build rhythm skills. VIP Members will gain access to parts of the workshop as well. 
Special wellbeing tools for teachers and students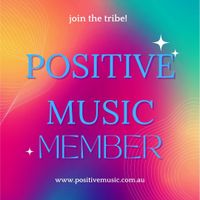 Plus, as a VIP member you gain access to the wellbeing video and audio resources such as my mini drum meditation course, guided meditations and sound healings to help you feel calm and relaxed, so you can feel energised to teach your students. If you're looking for ways to bring more vitality to your life and your classroom then this membership is for you.  
If you would like to learn more, please check out Positive Music VIP Membership. 
Have you found this post helpful? 
If you found this post helpful, please help support my blog and music-making by purchasing from the store (there are NEW Positive Music t-shirts and other goodies), student resource or download music. Or leave a comment in the comment box below, so others can find this post helpful. Every bit helps. Thanks so much for your love and support, it means a lot and inspires me to continue helping people like you. 
A little gift for you as you continue to build your djembe drumming skills. 
I want to help you out as much as I can so I've added some great hand drum beats for beginners and ensemble drums that accompany the djembe, called 7 Easy Steps to Develop Rhythm, Technique, Timing and Feel ebook. It's filled with lots of tips on technique and how to improve your timing and feel, to really take your playing to the next level. 
This is my gift to you and something that can accompany you on your drumming journey. 
Get your instant copy for absolutely free!! Price $15 - FREE today!! 
Thank you so much for taking the time to be here. If you like this post please leave a comment below and share by clicking the button at the bottom of this page, many good wishes, Peta.