Relax the mind, body and spirit with frame drumming rhythm 
The world is going through rapid change at the moment, and many might find it just too overwhelming. At times I have felt a little shaken through the past 9 months during lockdown. On a creative note, one thing that has kept me grounded is music and meditation. I wanted to share a beautiful simple grounding rhythm on the frame drum with you. 
Meditation - Silence the mind with rhythm 
Many might think, silence the mind with drumming? There are so many benefits to drumming especially playing at a tempo around 80 bpm. This tempo helps relax the body and mind. We can use this tempo for building a steady, simple rhythmical beat as shown in the video. We can also use this for deep breathing techniques. I delve deeper into drumming meditation in my online drumming meditation course. 
How are you managing through this time? Please leave a comment below, I'd love to know how you're going. 
Build your knowledge with my FREE Drumming Meditation Guide  
Are you drawn to the empowering rhythmical beat of drumming? Do you want to know how to begin a meditative drumming practice to help silence the mind?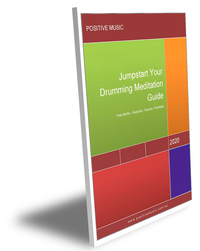 A little gift for you as you continue to enhance your drumming meditation practice.  
I want to help you out as much as I can so I've created a guide to help build your drumming meditation practice. It's filled with guidance, tips, and tools to really take your meditation to a deeper level.  
This is my gift to you and something that can accompany you on your meditative musical journey.  
Get your instant copy for absolutely free!! Price $10 - FREE today!!  
Thank you so much for taking the time to be here. If you liked this post please feel free to share by clicking the button at the bottom of this page, many good wishes, Peta.