Do you play drums for fun and joy? Maybe to increase wellbeing, connection and self-care? 
Something special ignites within us when we drum. Sparks of rhythmical vibrations that energise and soothe our nervous system. Drumming naturally takes us to a place of joy and healing. 
Music is a form of meditation, so when we include drumming as a meditative tool we can really explore the true benefits of music as a tool, a catalyst to inspire healing. For example, drumming at slow tempos can help focus our mind and begin to relax the body, regulate breathing and ground (stimulate base chakra) bring us into the moment – taking us out of our head (over thinking about the past and future). 
Would you like to do an experiment? Before you drum write down how you are feeling and then play your drum for 45/60 minutes. If you are on your own take a look at my play-along drumming resources for rhythmical inspiration. After drumming for a period of time, begin to tune in and do a check of your feelings. How do you feel? Write down your feelings. Did you notice any changes within you? 
Why is drumming so good for us? 
Drumming is a wonderful creative wellbeing tool for managing our mood, working through challenging times and emotions such as grief, loss, anxiety, anger. I call these, healing rhythms because they come directly from our heart centre. For those who find it difficult to say how they feel or know what they are feeling, drumming has the potential to build bridges to our feelings. 
Not only is drumming good for our self, it helps us connect with others in a unique way. More and more community groups, community leaders are learning to use drumming to facilitate groups and and corporate organisations are using the drum circle to build teamwork, community spirit, communication and wellbeing.   
Share your story through rhythms and music
For many cultures music is the language of storytelling. And great storytelling can connect individuals and community in an instant. Music empowers people! a collective experience. Just like when people come together with the intention to connect, have fun and share their rhythmical spirit. This is called a drum circle. 
Music is emotion! Yes? When we listen to the beautiful soulful voice of Lisa Gerrard and Hanz Zimmers song Reunion from soundtrack The Gladiator or any John Williams music from Star Wars or The Bee Gees soothing harmonies and melodies of How Deep Is Your Love or upbeat groove of Jive Talkin'. Music takes us to a place of imagination, feelings, memories, inspiration and spirituality. 
So the next time you want a pick me up, play-along to music or get to a community drumming circle near you and lets feel we are one, in harmony and having fun.
Learn to use sound as a wellness and meditative tool for self-care

For more information or book online Mentor package please contact me.  
Build your knowledge with my FREE Drumming Meditation Guide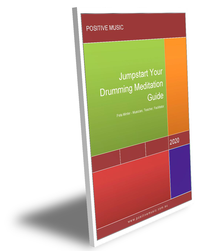 Are you drawn to the healing rhythmical beat of drumming? Do you want to know how to begin a meditative drumming practice to help silence the mind?     
A little gift for you as you continue to enhance your drumming meditation practice.      
I want to help you out as much as I can so I've created a guide to help build your drumming meditation practice. It's filled with guidance, tips, and tools to really take your meditation to a deeper level.        
This is my gift to you and something that can accompany you on your meditative musical journey.    
Get your instant copy for absolutely free!! Price $10 - FREE today!!      
Thank you so much for taking the time to be here. If you liked this post please feel free to share by clicking the button at the bottom