There are so many energising djembe rhythms to learn and be explored. 
Here we look 6/8 djembe drumming rhythm called Change from my special addition Drumming Affirmation cards. Plus a few solos I came up with to break up the main rhythm. During COVID I have had time to add even more appropriate affirmations and rhythms to the pack of cards to suit what is happening around the world. I think a huge part of what's happening now is change. I hope that this inspires you to drum along with affirmation Change in mind to help you through any challenges that you might be facing and bring this affirmation into your drumming meditation practice. 
Deeper into rhythm 
I play rhythms from the Energise Your Life Drumming Affirmation cards to demonstrate drumming meditation rhythms in my online Drumming Meditation Course and I'm really looking forward to 2021 to run and facilitate Positive Music drum circle facilitator trainings. Hopefully by next year we will be able to get back together again and drum together in the same room. In the meantime I really hope that my Youtube videos are helping and inspiring.
I find the more we get into rhythm the more opportunity there is to increase quietening our mind and learn meditation techniques. The benefits to group drumming are widely researched with so many health and wellbeing benefits – and boy…don't we need that especially the world we are living in at the moment. 
Have you found this post helpful?  
If you found this post helpful, please help support my blog and music-making by purchasing from the Store or download Music. Or leave a comment in the comment box below, so others can find this post helpful. Every bit helps. Thanks so much for your love and support, it means a lot and inspires me continue helping people like you. 
A little gift for you as you continue to build your djembe drumming skills.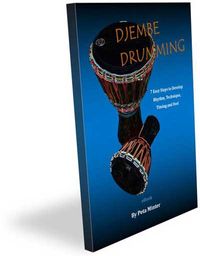 I want to help you out as much as I can so I've added some great hand drum beats for beginners and ensemble drums that accompany the djembe, called 7 Easy Steps to Develop Rhythm, Technique, Timing and Feel ebook. It's filled with lots of tips on technique and how to improve your timing and feel, to really take your playing to the next level.   
This is my gift to you and something that can accompany you on your drumming journey.   
Get your instant copy for absolutely free!! Price $15 - FREE today!!   
Thank you so much for taking the time to be here. If you like this post please leave a comment below and share by clicking the button at the bottom of this page, many good wishes, Peta.