Have you ever wondered how music and meditation are connected?
The drum circle is gaining acknowledgment throughout the mental health sector as a therapeutic tool for mindfulness and wellbeing throughout the world. 
A study in 2000 showed that people in group drumming setting who (had never drummed before) drummed together for one hour, after the session of drumming, everyone had blood tests, and the results were amazing! Results showed increased natural killer cell activity, and increased lymphokine-activated killer cell activity, in other words increased immune system and a decrease in stress. 
Ever wanted to learn a musical instrument? 
After 30 years of running my own group drumming classes and drum circles, I see the results of just one hour of community drumming. During the drumming workshop, participants body language change rapidly from apprehension to openness, nervousness to joy and lots of smiles and laughter. Not only are you learning how to drum but you're increasing your wellbeing – us musicians have known this since we started learning music. 
Of course, there is another wellbeing factor in this and that is group drumming, drumming with others. We are naturally social beings; we crave a sense of belonging and connection with others. Now more than ever with what has been happening across the globe due to covid-19, the drum circle is an important ingredient for social engagements and community building. 
The drum circle the great connector for social engagement 
Many of us have struggled to get back leaving our homes, sharing and literally being with others in the same space. All this time being locked in our homes with increased fear of others. And as I write this, it's been a year –the impact this has had on our lives when it comes to social engagement. 
Are we out of touch with true connection with others? For vulnerable people in our community this can trigger many repercussions of social isolation, depression and many other mental health issues. So to help others through this time I have setup an online Members section, where all Members have access to lots of exclusive videos, workshops and material.
My mission for strengthening a positive community with music 
I'm on a mission in my community and around the world to empower others self-empowerment, confidence and strengthening community connection. The drum circle is so much more that drumming it's a powerful tool for positive social engagement, connection and most of all health and wellbeing. And this year I'm offering all kinds of ways to implement this through empowering others to lead their own drumming circles with Positive Music drum circle facilitator training and online training. When you empower others, you empower community.   
A little gift for you as you continue to build your djembe drumming skills.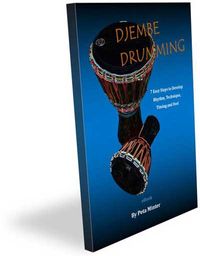 I want to help you out as much as I can so I've added some great hand drum beats for beginners and ensemble drums that accompany the djembe, called 7 Easy Steps to Develop Rhythm, Technique, Timing and Feel ebook. It's filled with lots of tips on technique and how to improve your timing and feel, to really take your playing to the next level.       
This is my gift to you and something that can accompany you on your drumming journey.       
Get your instant copy for absolutely free!! Price $15 - FREE today!!       
Thank you so much for taking the time to be here. If you like this post please leave a comment below and share by clicking the button at the bottom of this page, many good wishes, Peta.