Music and creativity inspires community wellbeing

As we get back into the swing of things after the world pandemic, once again working with people and facilitating Positive Music wellness activities I am reminded by the power of music and people. I'm fortunate to work with counselors and spiritual leaders over the years. A common thread are the people we work with, people who have experienced trauma. 
Unfortunately, many of us have experienced trauma in our life, and for many it can be a life long journey of healing. I'm not a counselor, though I speak from my own experiences and working in the field of women's mental health. 
Community connection with music and the arts 
I had been invited to facilitate therapeutic drumming workshops for women who had experienced the 2019 bushfires, as a community engagement wellbeing program. The collective energy of women is very powerful. I am always honoured to hold a safe space within the circle. When it comes to working with organisations and communities, I see music as a metaphor for life. A therapeutic tool that can be used in conjunction with other mental health initiatives, such as talk therapy. 
You don't need to be a musician to make music with others, right? At the heart of the drum circle are people, creativity and the energy they bring to the circle, it's not about competency at playing the drum. It's the facilitators' role to guide, direct the group to make music. Facilitating the drum circle I see the transformation that happens right in front of me every time. 
It's such a wonderful experience, to see drumming participants transformation from nervousness at the beginning and not knowing what to play and throughout the session hear the sounds of laughter, see huge smiles, deep connection with others to the very end of awareness of the self and others. And this comes out in the quality of the music that the group create – remember most participants in my team-building workshops and community programs have never drummed before. True connection and collaboration are what can be achieved. Here are just some words that were spoken from one women's wellbeing workshop.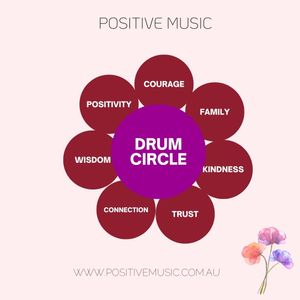 For those who are going through trauma this can be a relief. The opportunity to let go of the past and witness the true beauty within. 
When we use music as a metaphor for healthy relationships, whether with our self or with others, we can delve deep into what true creativity, connection and community is. It's powerful! 
So many times, just in the last few weeks I heard from drum circle participants, "I feel like a kid again". When did we forget that beautiful playful innocent child within us? I wonder… is this the relationship we can nurture… the one with our self? 
Is improvisation the key to creativity and healing?
Remember the drum circle is not a drum class, its improvisation, playing from the heart not the head. By playing in the moment we naturally tap into creativity, stimulating the part of the brain where we let go of the past, let go of the roles we play in life. This is where the magic happens. 
Drumming together especially when we improvise, gives us the opportunity to heal old wounds, see our self and others from a completely different perspective with compassion. These are the principals I teach in my Positive Music teacher trainings in Australia. 
Learn the Hart of Drum Circle Facilitation and help build stronger communities through the power of group drumming and music-making. 

Would you like to go on a fun and empowering rhythmical journey? For more information on Positive Music teacher trainings, please contact us today. 
A little gift for you as you continue to build your djembe drumming skills.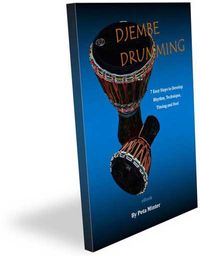 I want to help you out as much as I can so I've added some great hand drum beats for beginners and ensemble drums that accompany the djembe, called 7 Easy Steps to Develop Rhythm, Technique, Timing and Feel PDF. It's filled with lots of tips on technique and how to improve your timing and feel, to really take your playing to the next level. 
This is my gift to you and something that can accompany you on your drumming journey. 
Get your instant copy for absolutely free!! Price $15 - FREE today!! 
Thank you so much for taking the time to be here. If you like this post please leave a comment below and share by clicking the button at the bottom of this page, many good wishes, Peta.