Is percussion ensemble music the powerhouse for wellbeing? 
Well… absolutely! Why are there so many organisations, corporate, schools and community groups getting into percussion music? There are so many benefits to creating music with others, such as it calms the mind, energises the body and brings people together in the spirit of play. 
Percussion ensemble music and drum circles, centre around people, community building, teamwork, cooperation, collaboration and communication. These are all positives for nurturing our wellbeing. Community music-making is so much more than making music. Percussion music teaches us about ourself and others, about diversity, empathy, listening skills… Music has the ability to uplift our spirit, take us on a therapeutic journey of colour, sound and imagination. I could go on and on. 
How has your wellbeing been in the last 20 months? If anything, recent times has taught us that our wellbeing really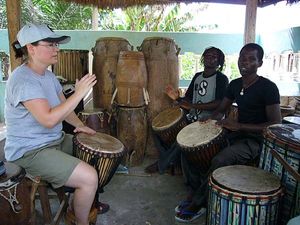 needs to be at the top of the list. Bring more music into our life and share and connect our rhythmical spirit with others. Let go of any doubts we might have about our ability to make music. Rhythm is deep within each and everyone of us. Like a flower, our mind needs nurturing. Feed the mind with music and see how music can bring so much joy into your life. 
6 weeks in the creative zone, creating percussion ensemble music 
From an idea to the finish song, like many of my student resources. The process had taken about 6 weeks to complete. I promised myself that I will keep it simple to make, however when I get into the create zone, I begin to hear things that will add more story to the music. My new percussion ensemble music, a fun, rhythmical upbeat song called Honey Highlife, has a lovely range of hand drums, stick drums and harmony and melody with the beautiful Orff xylophones. 
Heavily influenced by my time living and studying drum and dance in Ghana, I really enjoyed the style of music there called Highlife. I also am heavily influenced by Australia's native flora and fauna. I wanted to bring attention to our native bees and honey eaters throughout Australia and how many urban honey eaters are under threat. I love cats but please keep them in doors. 
Expression of interest – would you like to see an in-depth online workshop with me teaching all instrumental parts to Honey Highlife? Just send an email if you're interested.
Have you found this post helpful? 
If you found this post helpful, please help support my blog and music-making by purchasing from the store, become a member or download music. Or leave a comment in the comment box below, so others can find this post helpful. Every bit helps. Thanks so much for your love and support, it means a lot and inspires me to continue helping people like you. 
Thank you so much for taking the time to be here. If you like this post please leave a comment below and share by clicking the button at the bottom of this page, many good wishes, Peta.