"Music has healing power. It has the ability to take people out of themselves for a few hours" - Elton John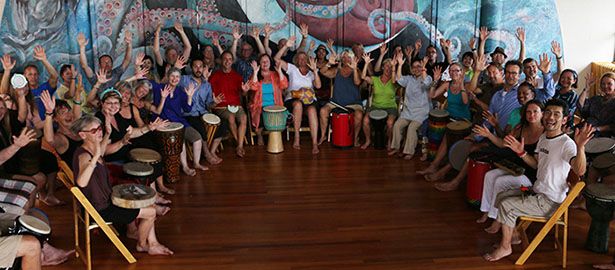 Now they say, to master anything whether it's playing a musical instrument, perfecting your tennis game that it doesn't take 10,000 hours but 60,000 hours. What if I said, to make-music with others you don't need any experience at all? Why should all the musicians have all the fun? This is the power of music. So, how is this possible? 
Awaken your inner drummer 
Our first rhythm teacher was our Mother – listening to her heartbeat, the swishing of blood flowing through her veins, the rhythm of her step, tone of her voice. The first thing to develop in the womb of a child are the ears. 
People are amazing beings! Just imagine that our brain is like a computer and we store our experiences on this floppy disc (the brain) of our first experiences, like listening to our Mothers heartbeat. These first rhythmic experiences lay dormant in some and in others they begin to show rhythm prowess early. However, rhythm is in all our DNA. 
Music is for everyone, yet how many times have people said to me at the start of a wellbeing program, team building event or a community drumming program, "I don't have a musical bone in my body" or "I'm not musical enough". Yet we are born rhythmical beings, right?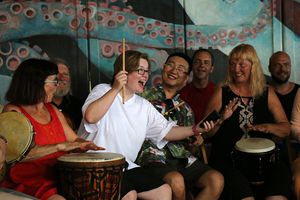 I see the lightbulb go off when I'm facilitating a drum circle with people who have doubts about their ability. I see the change in their body language, they begin to relax, be more in the moment, the way they begin to connect with others in the circle, and begin to believe that they belong to music. 
We just need an opportunity to awaken this rhythm inside of us – and everyone has it… has rhythm. Have I convinced you yet that you are musical? All it takes is stepping out of the comfort zone, building on that original rhythm within us and grow these rhythm skills, broaden our musicality, and build confidence to express what's in our heart through rhythm and sound. 
Like any good friendship, we need to nurture our relationship with music. This special gift we all have in side of us. It is this universal language that connects us to each other, connects us to our feelings where words fail. Music connects us to our spirit. 
Do you want more joy, more music in your life? 
We all deserve to have music in our lives, that's why a created student recourses for those wanting to get into the benefits of music, and the healing power of rhythm. There is a plethora of research in this area on the benefits of music and benefits of group drumming can achieve. 
I believe it is time for us to go back to our roots, back to our inner sanctuary of making-music with others. Ditch the iPhone, get off social media, and let's connect with our community – where hearts meet, where we share, truly connect, embrace diversity, because we are all one. 
If you've ever witnessed playing in a facilitated drum circle you know what I'm talking about. That magic of the drum circle can bring people together, in just a short period of time. It eliminates age, gender, religion, culture. Gone are the days where the humble drum circle was known only for hippies. 
I received some great advice from master percussionist, composer David Jones. I was invited by David to play in his percussion ensemble called DJ Drum! All original percussion music written composed by David and the amazing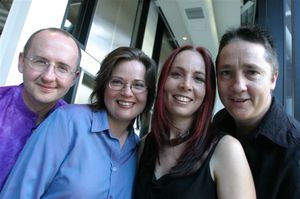 percussionist marimba player Tom O'Kelly. 
A duet piece he left up to Tanya Cavanagh, another amazing drummer and myself to compose called Siamese Twins. I wasn't as confident in being myself back in them days so I said let's play Steve Gadd grooves. David's advice was, "be yourself, no need to copy anyone else". This advice I received from my musician friend, began me on a journey of self-discovery. 
The drum circle is the perfect creative outlet of being yourself. This is where a drum class differs from a professional facilitated drum circle. A drum class teaches most of the time cultural rhythms for performance, where it's about getting a rhythm right. 
The power of the drum circle is purely in the moment music-making. Which means there needs to be connection with others, deep listening, a desire to harmonises with each other and absolutely no competition or performance pressure. 
Drum circle the wellbeing tool for beginners through to professionals 
Why are more and more health and wellbeing practitioners, group facilitators, school teachers, music therapists and community leaders choosing to bring more drum circles into their community? 
The drum circle is an opportunity to fully let go, be open and feel freedom that only being in the present moment can offer. There is no right or wrong notes, it is truly to get out of our head and fully be present. What is being created by the group is self-expression what's in each other's heart at that particular time. 
Can you see the difference with a drum class? A lot of time can be spent in the head, getting a rhythm or a performance right. Which includes hours and hours of practice, until it feels natural. 
Of course, it takes an experienced group facilitator to guide a group of individuals into a cohesive group creating in the moment percussion music. That takes skill and a lot of experience to facilitate a group. There is a science how to facilitate a drum circle and becoming a drum circle facilitator.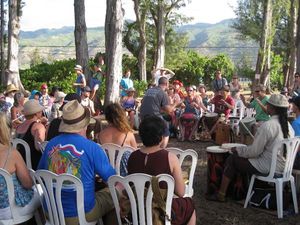 I remember when I first started out learning to be a drum circle facilitator. I traveled to Hawaii for an in depth 6 day facilitator training emersion with Arthur Hull. There were people from around the globe from all walks of life from yoga teachers, counselors, music therapists, teachers, mums and dads. Some who had never participated in a drum circle before. 
This trip changed my life. In a way of seeing how music can heal, connect, bring a sense of belonging to those who have never played music before. By the end of the 5 days we were creating amazing percussion music together that any composer or orchestral ensemble would be proud of. It proved to me that no matter whether you're a beginning-beginner or a seasoned pro, we all have the ability to create meaningful music with each other. 
Take purposeful action on your Musical journey 
Would you like to enrich your life with nurturing this relationship with music? What are the steps you can choose for a life filled with more joy, meaning and purpose? 
Let's take a look at some actions we can take; 
Make time to listen to music – music that you like. Driving to work, working out on the treadmill, lying in bed pop on some music. Of course, we want to deeply listen to music, so take time out from doing and just be still and listen. Pick out the instruments within the song. Build your listening skills. 
Get the engine revving and get into basics of rhythm. Trigger those rhythmical memories that lay within you. Get your hands dancing on a drum, feel free to express and jam with drum play-along music and explore sound more deeply with free-flowing soundscapes. 
Become a mentor for someone less fortunate than you, maybe volunteer for a youth program or elderly citizens home. Inspire a child, bring a few instruments to school and play. Share your passion with others. 
Connect with nature through your instrument of choice. For example, take your drum or a melodic instrument such as the flute to the bush, a park. Listen and FEEL the energy around you. Play a duet with nature. Listen… and begin to listen… even deeper. Close your eyes, what can you hear? 
When we connect with our spirit we connect with the wonders of nature that surround us and fills us with positive vibrations. The vision of music in colour.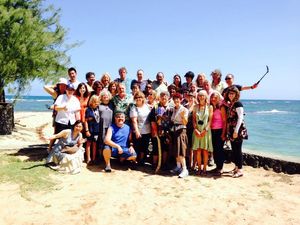 Do you see, music is so much more than notes on a page, more than learning rhythm patterns? Music touches our soul, in ways of looking into the mirror and seeing our reflection, reflecting back at us with so much beauty… we truly are a gift. Honour and uplift yourself with music. It's never too late to start your journey. 
Am I a romantic? … probably… I'm in love with music. 
"Rhythm and harmony find their way into the inward places of the soul" – Pluto
Have you found this post helpful? 
If you found this post helpful, please help support my blog and music-making by purchasing from the store (there are NEW Positive Music t-shirts and other goodies), student resource, download music and the Tip Jar. Or leave a comment in the comment box below, so others can find this post helpful. Every bit helps. Thanks so much for your love and support, it means a lot and inspires me to continue helping people like you. 
Special wellbeing tools for teachers and students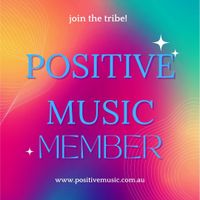 Plus, as a VIP member you gain access to the wellbeing video and audio resources such as my mini drum meditation course, guided meditations and sound healings to help you feel calm and relaxed, so you can feel energised to teach your students. If you're looking for ways to bring more vitality to your life and your classroom then this membership is for you.  
If you would like to learn more, please check out Positive Music VIP Membership.
A little gift for you as you continue to build your djembe drumming skills. 
I want to help you out as much as I can so I've added some great hand drum beats for beginners and ensemble drums that accompany the djembe, called 7 Easy Steps to Develop Rhythm, Technique, Timing and Feel ebook. It's filled with lots of tips on technique and how to improve your timing and feel, to really take your playing to the next level. 
This is my gift to you and something that can accompany you on your drumming journey. 
Get your instant copy for absolutely free!! Price $15 - FREE today!! 
Thank you so much for taking the time to be here. If you like this post please leave a comment below and share by clicking the button at the bottom of this page, many good wishes, Peta.