Drum lesson to enhance musicality
Djembe drumming and conga drumming is a wonderful way to explore rhythms from around the world. All that's needed are a few basic techniques of how to play drums and away you go with creating rhythmical music. 
Create more musicality with different pitch hand drums 
I am a huge fan, teaching students in my drum classes to play different pitch drums. I love looking for ways to make rhythm dialog more musical with variety of universal drums, such as African djembe, congas, talking drums, frame drums, kpanlogo drums… well you get the idea. More variety, more musicality. Musicality is one of the main segments of Positive Music drum circle facilitator training. 
World of rhythmical expression 
Just with one rhythm you can explore the possibilities of rhythmical expression. By permutating one rhythm, there becomes an abundant of rhythmical ideas. Start the rhythm in different places in relationship to the 1 of each bar – the note that the rhythm starts on. Once these rhythms become second nature, explore even more by improvising on the rhythm. I suggest to play-along to music to help support you in this process.
Learn simple drum rhythm 
A wonderful example for learning to play drums is this simple African drumming rhythm from West Africa. This rhythm is played as an accompaniment rhythm in djembe drumming ensembles and West African music. 
Small conga rhythm - main rhythm

Djembe rhythm

Medium conga rhythm

All Positive Music Members receive four play-along tracks, plus pdf download of all rhythms. 
Have you found this post helpful?     
If you found this post helpful, please help support my blog and music-making by purchasing from the Store or download Music, or leave a comment in the comment box below, so others can find this post helpful. Every bit helps. Thanks so much for your love and support, it means a lot and inspires me continue helping people like you.    
A little gift for you as you continue to build your djembe drumming skills.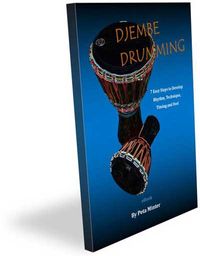 I want to help you out as much as I can so I've added some great hand drum beats for beginners and ensemble drums that accompany the djembe, called 7 Easy Steps to Develop Rhythm, Technique, Timing and Feel ebook. It's filled with lots of tips on technique and how to improve your timing and feel, to really take your playing to the next level.      
This is my gift to you and something that can accompany you on your drumming journey.      
Get your instant copy for absolutely free!! Price $15 - FREE today!!      
Thank you so much for taking the time to be here. If you like this post please leave a comment below and share by clicking the button at the bottom of this page, many good wishes, Peta.